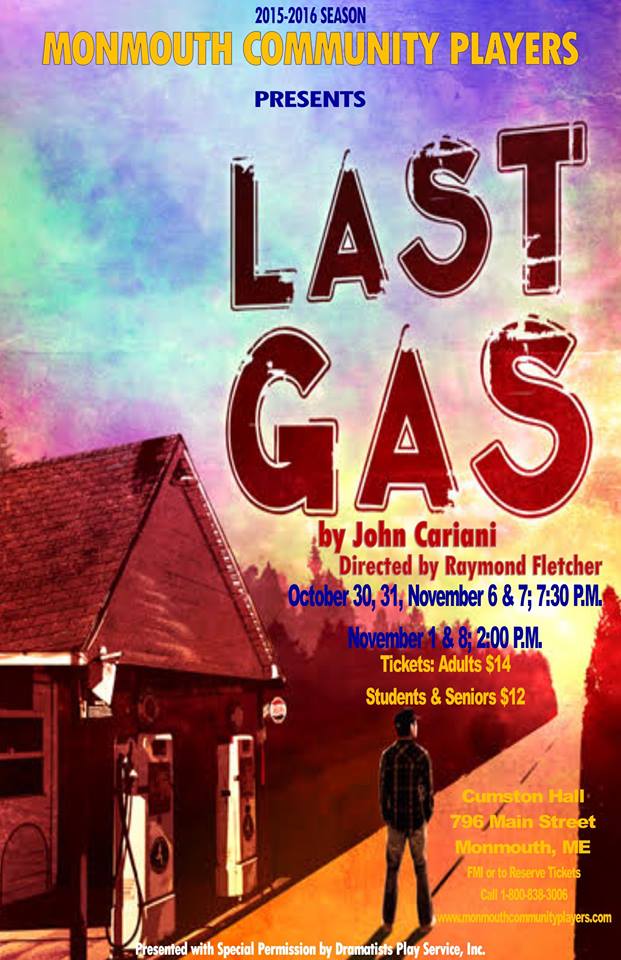 Directed by – Ray Fletcher
Producer – Rich Howard
Stage manager  – Rita Moran
Costume/Makeup – Michelle Handley
Scenic Designer/Builder – David Handley
Properties – Elaine Hanish
Lighting Design & Operation –  Jeanne Fletcher
Sound Design – Ray Fletcher
Crew – Katie Spadaforta
Program Designer – Linda Duarte
Poster Design – Travis Grant
Front of House – Rich Howard
Cast:
Nat Paradis –  Henry Quintal
Guy Gagnon – Joe Klapatch
Lurene Legassey Soloway – Karen Lipovsky
Dwight Paradis  – David Marshall
Cherry-Tracy Pulcifer – Cindy Dunham
Troy Pulcifer-Paradis – Jeff Fairfield
In Northern Maine, Nat Paradis works at the family gas station… Paradis' Last Gas.  His son Troy and father Dwight help out and give him lots of grief.  His son's mother , Ranger Pulcifer, or CT, is always on his case.  Best friend, Guy, is his constant companion.  When Nat's high school girlfriend, Lurine, comes back to town, his small world gets very confusing.  Should he try to spark that old flame? Or should he move on?  Either way, the Red Sox are playing!
Last Gas ran for 6 shows on Cumston Stage  in fall 2015
October 30 & 31,  November 1, 6, 7 & 8